Programme lines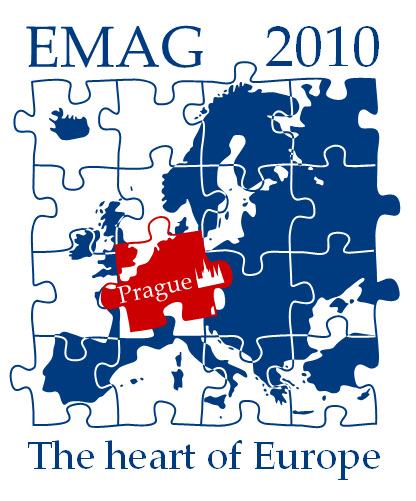 See all the
Lectures
and
Events
that are available for registration now.
The registration to paid events will be closed by July 25, 2010 because of the administrative reasons. However, you can still buy the voucher to the event if the capacity has not been reached yet or trade the bought events with other EMAG participants. We will establish a special board for all such advertisements. The registration to free events will be possible until the beginning of EMAG.
The first event starts on Wednesday 28th July at noon (12:00 CEST).
The official programme will start with an Icebreaker party on Wednesday (28th July) at 18:00, continue with a gala dinner on Saturday from 19:00 till 01:00 and end with a farewell lunch on Sunday (1st August) from 12:00 to 14:00.
The programme schedule is available for download in PDF format here.
The EMAG activities are divided into following programme lines:
Lectures
Lectures on various topics focused on broader audience will be given. The list of all lectures is still in preparation, there are a few examples – The solar eclipse at the Marshalls Islands and in the Mongolia, Czech language (+short course), CERN etc. We are expecting many lectures from you, the visitors from abroad, so don´t be shy and let us know. Send all your proposals to our official e-mail till May 31st.

Excursions
Excursions to interesting operations within the Czech Republic will be organized. The offer will include places such as a nuclear power plant, the Czech National Bank, the collector channels in the underground of Prague, the Tokamak, small brewery U Fleků, and various others depending on your interest and the current availability.

Mensa
Within this line presentations about activities carried on and projects realized by National Mensas will be given. Following projects will be presented: The electronic elections, The workshop HiQ at the Workplace, Presentations of Mensa International and many others. Thanks to project MI Leadership Exchange there will be also three members of American Mensa, three from Europe, and one from Malaysian Mansa presenting their projects and activities.

Gifted Children
The programme line will include lectures and presentations about activities related to gifted children, e.g. Mensa for schools, Buďánka - grammar school for gifted children, NTC system of learning for preschool children originated by Mensa Serbia, Logical Olympiad focused on children from primary and secondary schools. We plan to invite science experts and also teachers for practical lectures. These events are sponsored by the International Visegrad Fund.

Local Programme
The local programme will offer visits of various sights located in Prague and the near surrounding. The sighs will include places such as the Prague Castle. We are closely cooperating with ABL FM Services company on Local programme preparations. Also, some special events like first time in Prague guided tour, tour de pub, magical concert of classic music are scheduled in our programme.

Competitions and Entertainment
Participants will have an opportunity to test various games and competitions. For instance, the coding game will be on the list. The line covers visits of cultural events such as the theatrical performances or musical concerts held at the same time as the EMAG. If you play some musical instrument, don't forget to take it with you! (piano/organ players have a pardon), jam session is on the list.
The first prize winner of EMAG competitive part will recieve 8 days stay in 5* all inclusive hotel for two persons from our sponsor Caribissimo in Dominican Republic. More info.

Business Networking
The activity offers to extend the purely social networking to professional and business networking. An icebreaker presentation will be given to open a free discussion among participants according to their interest and needs.

Accompanying Activities
Two events which could be of your interest are organized parallely to EMAG conference: Mensa World Football Championship and Advík

If you are music lowers and want to walk Prague sights individually, we prepared 4 individual tours together with maps for you. Map download (3 MB).
Walks description (in .PDF format).
Please register for Events and Excursions without undue delays
Some excursions and guided local programme events require a minimal number of participants otherwise they can be cancelled. It will also allow to book additional capacity (if available) for the most wanted program picks.